Sponsoring Organizations
Gold Sponsors

Boeing

Boeing is the world's leading aerospace company and the largest manufacturer of commercial jetliners and military aircraft combined. Additionally, Boeing designs and manufactures rotorcraft, electronic and defense systems, missiles, satellites launch vehicles and advanced information and communication systems. As a major service provider to NASA, Boeing operates the Space Shuttle and International Space Station. The company also provides numerous military and commercial airline support services. Boeing has customers in more than 90 countries around the world and is one of the largest U.S. exporters in terms of sales

GE Global Research

GE Global Research is the world's most diverse industrial research lab, with researchers working in every major technical discipline at our state-of-the-art centers around the world. Our scientists support all of GE's businesses, developing technologies for such industries as aviation, energy, healthcare, software and transportation. GE Global Research is headquartered in Niskayuna, New York and has four other multidisciplinary facilities in Bangalore, India, Shanghai, China, Munich, Germany, and Rio de Janeiro, Brazil. The Electrical Technologies & Systems organization has deep domain expertise in the electrical realm, ranging from nanofabrication, semiconductors, ASICS, microelectromechanical and microfluidic systems, sensors, and electronic devices, to electronics packaging, signal electronics, controls and automation systems, communications, electronic power conversion, rotating electrical machines and electrical power systems. The team supports a broad range of exciting applications for GE's businesses including wind and solar power generation, optimization of conventional power generation, Smart Grid technologies, electric drives and subsea power distribution for oil and gas applications, aircraft engine controls, aircraft power distribution, traction drives and controls for locomotives, and MRI, X-ray, CT, PET and ultrasound imaging for healthcare applications, to name a few.

Honeywell

Honeywell is a Fortune 100 company that invents and manufactures technologies to address tough challenges linked to global macrotrends such as safety, security, and energy. With approximately 122,000 employees worldwide, including more than 20,000 engineers and scientists, we have an unrelenting focus on quality, delivery, value, and technology in everything we make and do. Honeywell has a proud heritage of leadership and excellence in control systems and continues to advance the technology with applications for homes, buildings and industrial facilities; aircraft and spacecraft; and automotive systems.

MathWorks

The MATLAB and Simulink product families are fundamental computational tools at the world's educational institutions. Adopted by more than 5000 universities and colleges, MathWorks products accelerate the pace of learning, teaching, and research in engineering and science. MathWorks products also help prepare students for careers in industry worldwide, where the tools are widely used for collaborative new product development. www.mathworks.com/academia

Mitsubishi

Mitsubishi Electric Research Laboratory (MERL), located in Cambridge, MA, is the North American R&D organization for Mitsubishi Electric Corporation, a $38B global manufacturer of electrical products including elevator and escalators, HVAC systems, electrical power systems, satellites, factory automation equipment, automotive electronics and visual information systems. Controls researchers at MERL collaborate with corporate R&D laboratories, business units in Japan and academic partners around the world to develop new control algorithms and control technologies that extend the performance envelope of these systems.

National Instruments

National Instruments is committed to enhancing engineering and science education and research worldwide by providing powerful graphical system design software and modular hardware to enable students to get hands-on learning experience and Do Engineering. Professors and students benefit from industry-leading, professional tools such as NI LabVIEW graphical system design software and NI real-time control hardware, which helps students visualize and implement engineering concepts. The integration of LabVIEW in the classroom creates an effective, dynamic learning environment - from primary schools to research laboratories in universities worldwide. For more information about NI academic products, curriculum resources, and discounts, visit www.ni.com/academic.
Silver Sponsors




Bosch

The Bosch Group is a leading global supplier of technology and services. According to preliminary figures, its roughly 281,000 associates generated sales of 46.4 billion euros ($61.6 billion) in 2013. The Bosch Group comprises Robert Bosch GmbH and its more than 350 subsidiaries and regional companies in some 60 countries. If its sales and service partners are included, then Bosch is represented in roughly 150 countries. Its operations are divided into four business sectors: Automotive Technology, Industrial Technology, Consumer Goods, and Energy and Building Technology. This worldwide development, manufacturing, and sales network is the foundation for further growth. In 2013, Bosch applied for some 5,000 patents worldwide. The Bosch Group's products and services are designed to fascinate and to improve the quality of life by providing solutions which are both innovative and beneficial. In this way, the company offers technology worldwide that is "Invented for life." In 1999, Bosch established its North American Research operation: The Research and Technology Center North America (RTC) has today offices in Palo Alto, CA, Pittsburgh, PA, and Cambridge, MA. Bosch RTC focuses on ASIC design and MEMS technology; energy conversion and energy storage technologies; modeling simulation and controls; wireless technologies; internet technologies; algorithms for robotics, autonomous systems and data mining; and user interaction technologies. Additional information on the global organization is available online at: www.boschresearch.com, www.bosch.com, and twitter.com/BoschPresse.

dSpace

dSPACE is the world's leading provider of hardware and software tools for developing and testing sophisticated electronic control systems. For over 25 years, dSPACE's high-quality, off-the-shelf software and hardware tools have empowered engineers to design and innovate, while dramatically reducing development times and cost. Within the academic and research and development area, dSPACE products support numerous technology development applications. Some recent projects include: high-speed robots, electric vehicles, intelligent-flying systems, satellites, steam turbines and active suspension systems, to name a few. dSPACE offers universities and research institutes flexible systems with all the options needed for the model-based development of mechatronic controls. dSPACE has put together attractive product packages, called ACE Kits, for universities. ACE Kits consist of real-time development systems that enable testing of even the most complex control systems in real time. All kits include software for seamlessly integrating the modeling tools MATLAB® and Simulink, and for operating the real-time hardware. ACE Kits are priced attractively for academic institutions. Through its headquarters in Paderborn, Germany, as well as its global network of project centers, subsidiaries (including Wixom, MI, USA) and distributors, dSPACE and its staff of 1000+ support new technologies all over the world. To learn more, visit www.dspaceinc.com.

Eaton

Eaton is a diversified power management company providing energy-efficient solutions that help our customers effectively manage electrical, hydraulic and mechanical power. With 2012 sales of $16.3 billion, Eaton is a global technology leader in electrical products, systems and services for power quality, distribution and control, power transmission, lighting and wiring products; hydraulics components, systems and services for industrial and mobile equipment; aerospace fuel, hydraulics and pneumatic systems for commercial and military use; and truck and automotive drivetrain and powertrain systems for performance, fuel economy and safety. Eaton has approximately 103,000 employees and sells products to customers in more than 175 countries. For more information, visit www.eaton.com.



Elsevier

Elsevier is a leading international publisher of journals, books and electronic products.

Please visit our website for more information on Elsevier's Engineering journals: www.elsevier.com/engineering



IET

The IET is a world leading professional organization sharing and advancing knowledge to promote science, engineering and technology across the world. The IET has more than 150,000 members worldwide in 127 countries. It was formed in 2006 by a merger of the Institution of Electrical Engineers (IEE) and the Institution of Incorporated Engineers (IIE).
For additional information visit http://iet.styluspub.com/books/features.aspx.

Maplesoft

Maplesoft Engineering Solutions can provide you with the expertise and technology you need to meet your project requirements. With experts in a variety of engineering fields, extensive experience in model-based design, and superior system-level modeling and analysis tools, Maplesoft can help you reduce development risk and bring products to market faster. The Maplesoft product suite includes Maple, the most advanced symbolic computation engine, and MapleSim, the high-performance, multi-domain modelling and simulation tool for physical systems. MapleSim Control Design Toolbox provides you with essential control design tools that extend MapleSim's exceptional plant modeling capabilities.

Quanser

Quanser is the world leader in control systems plants for research and education. Quanser devices are renowned for their modular, open-architecture design, performance, and robust quality. With an extensive range of products covering a wide range of motion types and application fields, Quanser systems provides the ideal platform to validate control algorithms and research. Key application areas include haptics, serial robotics, and autonomous robotics. Quanser systems are fully integrated with industry-leading software platforms including, LabVIEW™and MATLAB/Simulink®. Quanser customers include over 2500 universities and colleges worldwide. To learn more about Quanser, visit www.quanser.com or contact them at [email protected]

SIAM

Visit the SIAM booth to check out our newest books: From Vector Spaces to Function Spaces: Introduction to Functional Analysis with Applications by Yamamoto and Computational Mathematical Modeling: An Integrated Approach Across Scales by Calvetti and Somersalo. The newest books in our Advances in Design and Control series: Applications in Regular and Bang-Bang Control by Osmolovskii and Mauer and Control and Optimization with Differential-Algebraic Constraints, Edited by Biegler, Campbell, and Mehrmann. Also available are Practical Methods for Optimal Control and Estimation Using Nonlinear Programming, Second Edition by Betts; L1 Adaptive Control Theory: Guaranteed Robustness with Fast Adaptation by Hovakimyan and Cao; and Shapes and Geometries: Metrics, Analysis, Differential Calculus, and Optimization, Second Edition by Delfour and Zolésio. And many more books for applied mathematicians, engineers, and computational scientists.

Springer

Come and browse our key titles in Control. Get 20% off print books and eBooks - and learn about MyCopy (a printed eBook for $24.99). We are proud to be the publisher of choice for numerous books, valued by researchers globally, and high-quality journals. Meet our Editors, discuss your publishing proposal and ensure maximum readership for your work, too! Springer, your partner in publishing. Find all offers online: springer.com.



Taylor & Francis

Taylor & Francis boasts a growing, wide-ranging and high calibre journals portfolio in Computer Science. Our journals are edited by some of the most prominent academics in their fields. We are partnered with an array of scholarly societies, such as the Austrian Society for Cybernetic Studies, Robotics Society of Japan, The Institute of Ergonomics and Human Factors, International Society for Digital Earth, International Information Systems Security Certification Consortium, Inc., (ISC)²®, and Chinese Institute of Engineers (Taipei, Taiwan, ROC), to publish cutting-edge, high quality research across the spectrum of Computer Science.

The Journal of the Franklin Institute

The Journal of The Franklin Institute has an established reputation for publishing high-quality papers in the field of engineering and applied mathematics. Its current focus is on communications, signal processing, control systems, and their applications. For additional information visit http://ees.elsevier.com/fi.

Visual Solutions

Visual Solutions is the creator of VisSim, world-class graphical software for model-based development. VisSim combines a powerful nonlinear dynamic simulation with OMG 2.1 compliant UML state charts giving a powerful platform for model-based design. Visual Solutions partnership with Texas Instruments makes VisSim ideal for embedded development, giving access to a wide variety of low-cost development kits for digital power, motor control, and general embedded control. VisSim embedded projects are found in the cockpit of the Joint Strike Fighter, in the main control system of multi-megawatt wind turbines, electric vehicles, and medical respirators.

Since its founding in 1989, Visual Solutions has maintained a strong connection with the academic community. VisSim is used in classrooms and laboratories at thousands of universities and colleges worldwide. Students and teachers report enhanced learning, faster progression through course material, and better retention.

VisSim/Embedded Controls Developer lets you rapidly create low-cost embedded controllers for Texas Instruments DSPs and microprocessors. VisSim/ECD provides support of on-chip peripherals like PWM, quadrature encoder, event capture, CAN, I2C, Serial, SPI, ADC and GPIO, allowing a faster and deeper coverage of commercial actuators, sensors and communication buses. VisSim HotLink technology lets students interactively change controller gains on the target from VisSim, and observe on-target signals like phase currents and internal controller signals in VisSim digital scopes.

For more information, visit www.vissim.com.

Wiley

Wiley is the leading society publisher. Our scientific, technical, medical and scholarly business publishes on behalf of more societies and membership associations than anybody else, and offers libraries and individuals 1250 online journals, thousands of books and e-books, reviews, reference works, databases, and more. For more information, visit www.wiley.com, or our online resource: www.onlinelibrary.wiley.com .

Bronze Sponsors
---
Sponsorship Opportunities
ACC 2014 cordially invites your organization to participate as a sponsor and exhibitor. The ACC typically attracts 1200+ attendees comprised of an international group of researchers, engineers, scientists, and educators, making the venue an excellent opportunity for promoting your publications, products, and services.
There are three levels of sponsorship available
Bronze sponsor ($1,000)


Company/organization logo, name, and brief description on the conference website and in the printed conference program.

Silver sponsor ($2,500)


Bronze benefits plus...
Flyer or brochure insert in the conference registration packet
One complimentary conference registration
Exhibition booth or one additional complimentary conference registration

Gold sponsor ($5,000)


Silver benefits plus...
One additional complimentary conference registration
A special session organized by the sponsor on a topic of the sponsor's choosing (relevant to the conference). The session can be held during lunch hours on any day of the conference and will be listed in the program book and on the website.
Flyer for prospective sponsors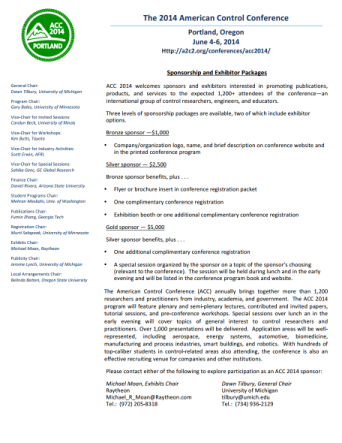 Fast Facts:
Venue: Hilton Portland & Executive Tower
City: Portland, OR
When: June 4th - 6th 2014
Key Dates
Draft Manuscripts:
due September 27, 2013
Student Paper Nomination:
due October 8, 2013
Workshop Proposals:
due October 18, 2013
Acceptance/Rejection Notice:
Late January 2014
Registration Opens:
February 2014
Final Submissions:
due March 18, 2014
Advanced Registration Deadline:
April 15, 2014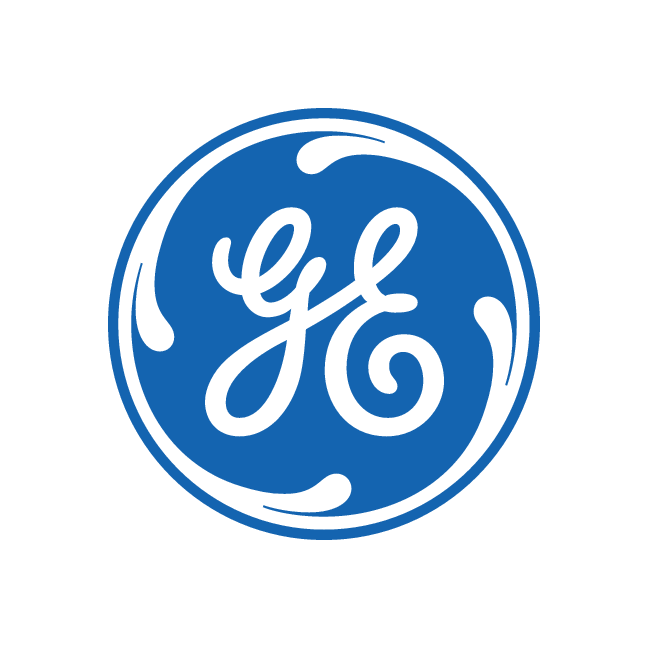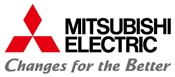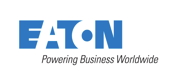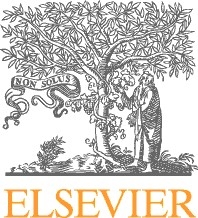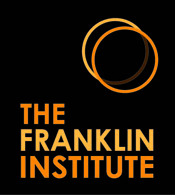 Please contact
Dawn Tilbury
if you would like to
contribute sponsorship
to ACC2014